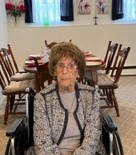 Obituary of Justina B. Calabrisi
Please share a memory of Justina to include in a keepsake book for family and friends.
Justina Bassano Calabrisi was born December 10, 1920. She lived a very happy and fulfilling life. She is preceded by her father (Diodato), mother (Giovanna), brother Michael and brother Carmen). She moved to Binghamton when she was 12 where she negotiated buying and selling property for her parents who spoke Italian and were not fluent in English at that time. (However, she was fluent in both languages.) As she grew up she became a hair stylist (Gessie's) where she was well known on the Southside of Binghamton where both her brothers and father had a barber shop. August 15, 1944, Justina and John were marred until his death in 2008. They were married for 64 years. They had four children – Teresa Chapman, John Calabrisi Jr., Joanne Callahan (Bob) and Robert Calabrisi (Janet). She has 7 grandchildren and several great grandchildren. As the years passed, Justina owned and operated Terry's Soda Bar for a couple of years. She was very active in the Republican voting process and became a supervisor at the age of 96 years. She also loved to bake cookies for people which kept her very busy. Justina was an excellent cook and almost all the holidays were held at her house when she cooked the meals for her relative and friends. She always kept the Italian traditions. In 1969, she and John moved to Chatham, Virginia, where she joined the garden club and won many awards for her arrangements but continued to cook for her friends and relatives. She was really in her glory when it came to putting her love into the food she prepared for others. After 11 years, she and John moved back to Binghamton, where they were both very active at St. Mary's Bingo. Each week, she would provide different sandwiches to the patrons which were delicious. Every day, Justina bought scratch offs. She loved trips to Atlantic City, Tioga or Turning Stone to play the slots. After returning to Binghamton, Justina started working at the General Store at the Metro Center and downtown Binghamton where she continued to work well into her 80s and was insulted when she got laid off. Justina and John used to travel back and forth to Florida like it was next door. She also loved to travel to Disney and many places in Florida with her family and friends. After John's passing, she continued to live alone, drive a car, bake cookies, cooked delicious meals for her friends and travel back and forth to Florida until she was 98 years old. Justina will be greatly missed. She was a kind, sweet lady who would do anything for anyone. Justina was grateful to have friends such Betty Ricci, Tom and Dottie Donnelly, Rosemary Martin and Ida Sephton and many others. We would like to thank the staff at Ideal Sr. Living Center (Daffodil Court) for providing Justina with excellent care during her time there. In lieu of flowers, please submit a donation to St. Jude's Children's Hospital. A Funeral Mass will be offered at St. Mary of the Assumption Church, Court Street, Binghamton, Monday at 9:30 a.m. Entombment will be in Calvary Cemetery, Johnson City. The family will receive friends at St. Mary's Church, Monday from 8:30 a.m. until 9:30 a.m.
Share Your Memory of
Justina