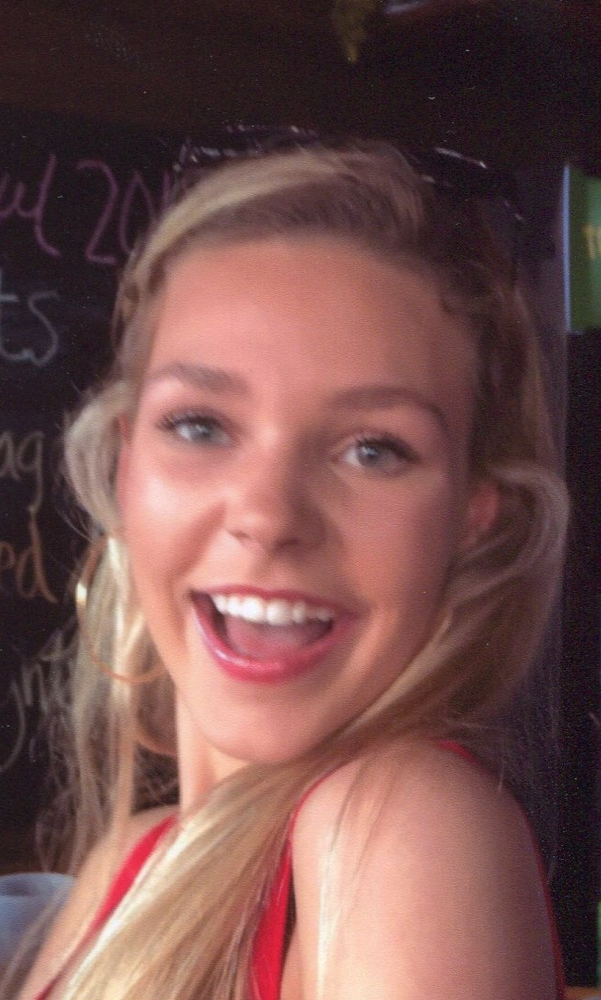 Obituary of Harper M. Stantz
God's gift to this world was given to us on May 17th 2002, and after 16 short years was called back to the Lord on March 13th 2019. Harper and her best friend Britney were run down on the sidewalk while walking home from the park in a senseless act of violence. Harper came into this world with her beautiful blue eyes, and blonde hair, and with a personality that let you know that she was going to be in charge. She loved to be read to, but insisted she be sung to over and over before she would go to sleep each night. Harper had a beautiful smile that could disarm you when she had done something to irritate you. She had a keen whit and a touch of stubbornness that always left you feeling that she had won the debate even in some of her most ridiculous arguments. She loved conspiracy theories, and Frank's Red Hot Sauce. She loved to hang with her sister, brother, cousins and friends, watch movies, eat popcorn and binge watch Grey's Anatomy & American Horror Story. She enjoyed many types of music, dancing and an occasional game of tennis, but mainly for the socializing. Harper loved to go to the beach and hang with her cousins, aunts, uncles and friends. She was an unskilled Frisbee tosser, but always looked good doing it. She loved to visit her Beba at Cayuga Lake, and swim, jet ski, and get into mischief with her sister, brother and cousins. She loved to have her picture taken, either smiling or with a hilarious distorted face. She loved animals, especially her pets Millie, Mabel and Milo. She was strongly pro-environment, and did not support anything that would harm the earth. In Harper's 16 years in Binghamton, she made many great friends that she loved and adored. She seemed to get her biggest joy in life just hanging out with them, or as she called it "just chillin". Though she never made it; one of her goals in life was to visit Jamaica, where she could sit on the beach and look at the beautiful water, and just chill. Harper Stantz was a free spirit that lived her life on her own terms. She hated restrictions and curfews, and believed she was mature beyond her years. Now our dear Harper, your spirit is free to soar amongst the angels, no more curfews for you our Harps. During this week of unspeakable loss, our family has felt the countless prayers, support, kindness, generosity and overwhelming love of this community. Our pain will never go away, but all that you have done will help us get through another day, and for that we are forever grateful. There are so many to thank: the students, staff and all the countless friends in the Binghamton School District. The first responders, the emergency room staff, and the incredible people at Wilson Hospital ICU. We thank especially the outstanding compassionate nurses, Alyssa, Danielle, Holly, Johnna and Jessie, as well as the outstanding Dr's and staff that were so attentive to Harper and our family. We thank you all from the bottom of our hearts! Thanks also to Mayor David, Chief Zikuski and especially Officer Chris Governati for getting Patty and I home to be bedside with our baby. Most notably we wanted to thank the entire staff at Wilson Hospital, for honoring our daughter with an "Honor Walk" as our daughter was about to donate her organs. Thank you also to Fr. Corey Van Kuren and Msgr. Putano for the love and the prayers. We just wanted to say thank you very much to our extended family, friends and the entire community. THANK YOU FOR ALL THE LOVE! WE LOVE YOU HARPER STANTZ, OUR ZUZU BELLE! Please continue to keep Britney in your prayers, and donate blood and sign up to be an organ donor if possible. Harper was greeted in heaven by her maternal Grandfather Ronald Moore, Uncle Kevin Stantz and friend Noah Farrelly. She is survived by her parents Patty & Marty, sister Rylee and brother Griffin Stantz. Maternal Grandmother Joan (Beba) Moore, paternal Grandparents Mary & Lou Stantz. Aunts, Uncles and cousins: Kathy & Carl McBride, cousin Kevin F. Stantz Jr., Teresa Corrigan, cousins Sean & Patrick Corrigan (MaryKate Blessing). Marilyn (MarMar) Stantz, Siobhan & Michael Cleary, cousins Nicole Stantz(Jimmy) & Brendan Cleary(Sam). Lisa Hill (Kevin Murray), cousins Dave Ballman Jr.(Charlotte), Tara Shadduck(Chris), Maggie Hill(Dan), Palmer Copeland. James & Laura Moore, cousins Alexis & Sophia Moore. Kelly Rogers, cousins Danyelle Moore, Ashley, Gabby & James Rogers. Holly Emmett, cousins Cody, Casey(Landon), Colton & Kyle Emmett. Amy Kellar, cousins David Kellar (Maryetta), Jon Kellar(Rachel) & Sarah Kellar. Uncles David Ballman Sr., Brian Hill, Tom Kellar & Mark Emmett. Several grand cousins, other relatives and many truly loving close friends. We ask those attending services to please wear her favorite color yellow, or some type of tye dye. Thanks! A Funeral Mass will be offered at St. Thomas Aquinas Church, Highland Avenue, Binghamton, Tuesday at 1:30 p.m. Burial will be in St. Augustine's Cemetery, Silver Lake, PA, in the spring. The family will receive friends at St. Thomas Aquinas Church, Monday from 3 p.m. to 7 p.m. The family requests that flowers be omitted and that memorial contributions be made to the Harper Stantz Memorial Scholarship Fund, C/O Visions Federal Credit Union, 24 McKinley Avenue, Endicott, NY 13760.
Visitation at Main Service
3:00 pm - 7:00 pm
Monday, March 18, 2019
St. Thomas Aquinas Church
1 Aquinas St.
Binghamton, New York, United States
Mass
1:30 pm
Tuesday, March 19, 2019
St. Thomas Aquinas Church
1 Aquinas St.
Binghamton, New York, United States
Final Resting Place
St,. Augustine Cemetery
Church Road
Silver Lake, Pennsylvania, United States
Share Your Memory of
Harper