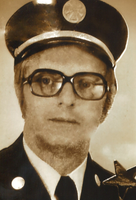 Anthony J. "Tony" Winkler, Jr.
Anthony J. Winker, 91, of Cape Canaveral, FL, formerly of Binghamton, died Saturday, November 16, 2019. He was predeceased by his parents Anthony and Lillian Winkler; his sister Rose Barton, brother Edward Winkler, brothers-in-law, Mitchell Bomysoad and Don Barton. He is survived by his loving wife, Edie Winkler; his son Paul and Ching Winkler, NY. Step sons, Frank and Chris Tozer, Sister Madeline Bomysoad, Vestal, foster brother, Fred Dowling, Binghamton and several nieces and nephews
He served in the US Army stationed in Germany. He retired from the Binghamton Fire Department as First Assistant Chief. He also taught firefighting courses at Broome Community College. He loved fishing, hunting, traveling and spending time with family. He was always there to lend a helping hand for whatever the family needed.
He was a longtime member of St. John the Evangelist Church serving as an altar boy in his youth.
A Funeral Mass will be offered at the Church of Saints John and Andrew, Vestal Avenue, Binghamton, Saturday at 10 a.m. Burial will be Calvary Cemetery, Johnson City. The family will receive friends at the J.A. McCormack Sons Funeral Home, 141 Main Street, Binghamton, Saturday from 8:30 a.m. until 9:30 a.m.