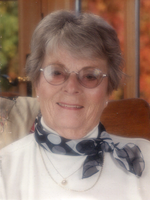 Phyllis H. Conaty
Phyllis Conaty (Henderson), 92, passed away peacefully on October 27, 2019. Phyllis was born on December 15, 1926 to the late Edward and Vesta Henderson in Whitney Point, NY. She was predeceased by her husband Joseph Conaty, sons Richard and Thomas, daughter-in-law Cindy, sisters and brothers-in-law, Beverly and Don Beardsley, Shirley and Ray Conroy, Gail and Jerry Zellers, Sylvia Cotcamp, and Brother and sister-in-law Edward and Louise Henderson.
She is survived by her daughter, Jeanine Conaty, son Joseph and Ann Marie Conaty, granddaughter Sara (Dan) Snee, and grandsons Sean Conaty, Alex Conaty and Collin Conaty, great granddaughters Lia, Makenizie and Vanessa; as well as several nieces and nephews. Phyllis is also survived by her bother-in-law, Hugh Cotcamp.
Phyllis spent her life sharing her love with everyone she met. She lived by the rule, "If you don't have something nice to say, don't say anything at all". She enjoyed traveling the world with her sisters Gail, Shirley and Sylvia, brother-in-law Hugh Cotcamp. Together they visited China, The Netherlands, England, Australia and countless other places. She and Gail attended the many celebrations of family and friend's lives; always laughing and enjoying the friends and festivities. Phyllis' greatest happiness was for her children to be happy. She adored her grandchildren and cherished her great-granddaughters. In her later years, as she lost her ability to speak, she would greet everyone with a kiss and hold their hand.
Phyllis was a faithful and active member of St. Augustine Church, Silver Lake, PA. She drove school bus for the Montrose Area School District for many years.
The family would like to thank the wonderful staff on Cameo Court at Fairview Good Shephard Home for their loving care, and her caregivers Celia and Mary Ellen from Home Instead Senior Care for their commitment to her wellbeing.
A Funeral Mass will be offered at St. Augustine's Church, Silver Lake, PA. Saturday, November 23 at 10 a.m. Burial will be in the parish cemetery. The family will receive friends at the J.A. McCormack Sons Funeral Home, 141 Main Street, Binghamton, Friday, November 22 from 4 to 6 p.m. In lieu of flowers the family requests donations be made to Cystic Fibrosis Foundation, Central New York Chapter, 200 Gateway Park Drive Building C, Syracuse, NY 13212