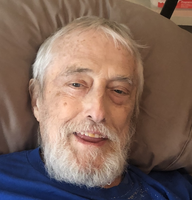 Terry M. Williams
Terry Williams passed away August 2, 2019 after courageously battling different types of cancer the past 35 years, living past any doctors expectations. Terry was predeceased by his parents Robert and Mary Williams. He is survived by his brother Jack and his wife Diane.
Aunt Lena Weyandt (Phoenix AZ), Therese (David) Eddy, Deborah (Phillip) Elliot, Linda (James) Williams, Kevin (Deborah) Williams; many nieces, nephews and cousins.
Terry was a lifetime resident of the West Side of Binghamton, He was one who was not afraid to give his opinion on any matter, and to stand for what he believed in.
His quick wit and humor were unparalleled. He had a big heart always willing to help those in need especially the underdog. Terry taught school for 15 years mostly at the Susquehanna Valley Home. He followed that with a career in finance at the Legends Group, and being part owner of several local businesses. He was involved in playing and coaching local softball a sport he loved. In the seventies and eighties he could be found at the YMCA playing basketball and handball. His love of sports led him to have a celebration of every major sporting event. At those events he invited the chosen 100 whom he lovingly referred to as his squares.
His family would like to thank Lourdes Hospice, and those who were close friends who helped in his care taking, Jim Cucci, Phil Whalen, Michelle Wilber Warner, Brent Benkovic
Tony Shenk and his faithful 4 legged companion of several years Lucy. Funeral Services will be held at the J.A. McCormack Sons Funeral Home, 141 Main Street, Binghamton, Thursday at 1 p.m. Rev. Corey S. Van Kuren will officiate. Burial will be in Calvary Cemetery, Johnson City. The family will receive friends at the McCormack Funeral Home, Thursday from 11 a.m. until 1 p.m. In lieu of flowers, to celebrate his love of dogs, it is asked that a donation be made to the Humane Society, 167 Conklin Avenue, Binghamton, NY 13903.