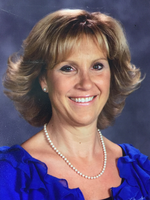 Ann T. Vitovsky
Ann Therese Vitovsky, 56, passed away peacefully on April 8, 2018 while surrounded by her family at the Hospice of the Sacred Heart in Dunmore, PA after a lengthy illness. She was preceded in death by her husband, Barry G. Vitovsky, and leaves behind one daughter, Maria Vitovsky of Binghamton, NY. She was born in Peckville, PA on July 31, 1961 and was the daughter of John P. and Theresa A. (Popovich) Rolka of Scranton, PA. Ann was a graduate of Lakeland High School, class of 1979 and was a resident of Great Bend, PA. Ann earned a Bachelor of Science degree in Elementary Education and a Master of Science degree in Reading Education, both from Marywood University. Ann was a member of Delta Kappa Gamma, the International Society for Key Women Educators, and of the Parent Teacher Association where she was awarded a lifetime membership award. Ann was also a member of St. Mary's Church, Kirkwood, NY, where she was a Eucharistic Minister.
Ann was a passionate and talented elementary school teacher. She taught at St. Patrick's School in West Scranton, then at Donnelly Elementary School from 1986-2016. Her love for her students guided her work, and her generosity was unmatched. She was known to provide clothing, food, backpacks, and books to students and families in need and loved nothing more than helping students, particularly in learning how to read. Ann took comfort in her faith and absolutely loved God. She was a devoted mother, sister, daughter and friend. She was extremely proud of her daughter and had a passion for her family and friends. Ann loved to spend time with her beloved Chihuahua, Bella; traveling to the beach and wineries, shopping, horseback riding, and supporting her daughter as she became an accomplished equestrian. She loved sharing her passion for life through entertaining, cooking, and relaxing by the pool. In addition to her daughter and parents, Ann is survived by her devoted, loving other half, Rob Bobik, Binghamton, NY; Nick DiRenzo who she considered her son, Binghamton, NY. She is also survived by her sister, Diane Nelo, of York, PA; brother, John Rolka, and his wife, Karen, of Dalton, PA; and her nieces and nephews, Kathleen Nelo, Joseph Nelo, Julia Nelo, and Anthony Nelo of York, PA; Nicholas Rolka and Nathan Rolka of Dalton, PA.
Special thanks is extended to the staff at Wilson Hospital, UHS Neurosurgery, Mountain View Care Center, and Hospice of the Sacred Heart. A Funeral Mass will be offered at St. Mary's Church, 975 NY Route 11, Kirkwood, NY on Tuesday at 10:00am. Burial will be in St. Joseph's Cemetery, Scott Township, PA at the convenience of the family. The family will receive friends as the J.A. McCormack Sons Funeral Home, 141 Main Street, Binghamton, on Monday from 3-7pm.
In lieu of flowers, memorial contributions in memory of Ann may be made to S.V. Dollars for Scholars, Susquehanna Valley Central School District, P.O. Box 200, Conklin, NY 13748 or to Hospice of the Sacred Heart, 100 William Street, Dunmore, PA 18512.